Boomer Norman

Today I'm talking to Boomer's 1972 Fender Telecaster.
Guitars on the Web: Welcome. So, you are Boomer Norman's Telecaster.
Boomer Norman's Telecaster: Yep, that is correct.
Q: Tell us a little bit about yourself.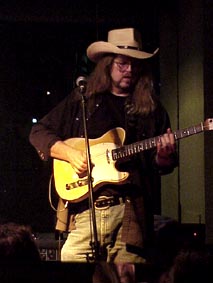 telecaster: Well, my neck is stamped November 1972, but there is some debate as to the possibility that my body is actually from the late 1960s. I've been with Boomer since 1985. He found me on the wall at Southpaw Guitars in Houston, Texas.
Q: Houston, Texas. Where are you located now?
telecaster: Austin, Texas.
Q: I see. Tell us a little about Boomer. I guess you probably know him about as well as any guitar.
telecaster: Yeah, I guess I do. Well. Boomer grew up in Houston where he attended the High School for Performing and Visual Arts. In 1984 he moved to Austin. Almost immediately he started picking up work playing country gigs. From there he started working with songwriters including a fellow named Charlie Beaver. Together Boomer and Charlie formed the Charlie Beaver Band - playing a strange mix of country and rock & roll in beer joints and honky-tonks all over the Austin area.  
Q: Playing original country songs?
telecaster: That's right. I think they made some of the more introspective, folk oriented songwriters nervous though, they were a pretty wild band. Their slogan was The Charlie Beaver Band, appearing in a stupor near you.
Q: Oh my, and you were a part of this?
telecaster: Yes, I was right in the middle of it. They had quite a sound back then. That was 1985 - 1987. From there, Boomer has gone on to work with so many bands and songwriters and so many projects.
Q: Well, I'm going to ask you about that in a minute but first. I have to ask the tough question. Are you a stock Telecaster? You don't look like you've been modified any.
telecaster: No, absolutely not. No modifications. I haven't been hot-rodded. I have had three fret jobs though, since I've been with Boomer. About every four years he just wears my frets out. In fact, I'm due right now - or very soon - for my forth fret job.
Q: Three fret Jobs in 13 years! Wow, That's a lot of playing,
telecaster: Yes it is. Boomer has played over 200 gigs a year for years now, plus he practices a lot at home. We do scales, chord study, picking exercises, we learn new tunes and we do a lot of noodling too. As I said he works with, and has worked with so many bands over the years.
Q: Ok. So, who is Boomer working with these days? Also, I'm curious to find out about some of the higher profile projects he has been involved with.
telecaster: Well, Boomer has been a free-lance musician for years now. His theory has always been that every band works a little but no band works a lot. Stop The Truck is one of Boomers two main bands these days. They work all over Central Texas playing great original country music with a lot of swing , rock and roll, reggae, and cojunto influence. In fact the pictures of me were taken at a Stop The Truck gig in San Angelo Texas last December.
Boomer has played with Stop The Truck since March of 1994 and is featured playing me on both Stop The Truck records, I mean CD's. I still call them records out of habit. CDs were unheard of back when Boomer and I made our first recordings.
Boomer also plays with Jim Stringer and the AM Band. The AM band, or Austin Music Band, plays a wonderful mix of western swing, jazz, honky-tonk, rock & roll, and general guitar weirdness. They have a CD out called Swang, and they will be starting their next recording very soon. Thc AM band plays every Thursday at the Carousel Lounge in Aust, plus they will be touring some in 2000. You can find out more about the AM Band at www.musicroom.org. At that address you can also find out about the highly acclaimed Travis Country Pickin CD that Boomer was part of.
Q: I see. Well, who else has Boomer played with?
telecaster: Boomer has worked with Don McCalister off and on for about 10 years. He played on Don's CDs, Brand New Ways and Love Gone Right. Both of these recordings feature the legendary Texas fiddle / mandolin player Johnny Gimble. Boomer got to record, playing yours truly, with Johnny during the Love Gone Right session. In November of 95, Boomer took me to Italy for a Don McCalister tour and I was with him when he and Don played the Bluebird Cafe in Nashville in the summer of 1991, I think -- I don't remember for sure. Boomer has also worked with Austin songwriter Walt Lewis, the Walt Lewis Band, for 8 or 9 years. He played me on Walt's CD Wrong, Wrong, Wrong.
Q: That was a great recording! Boomer was featured from beginning to end playing you I assume?
telecaster: Yes, he played me exclusively on that record. We must have done a good job because he received some very nice quotes in the reviews. John Conquest said in the Music City Texas of December, 1994, Boomer Norman, one of the finest country guitarists around, a man of infinite resource and sagacity, whose playing is fabulous throughout. Sagacity, can you believe it? Boomer had to get out the dictionary and look that word up.
Q: What a great compliment. You must have been proud.
telecaster: Absolutely. We played an incredible show the night he read that review for the first time.
Q: Any other projects or people that you and Boomer have been involved with that need mentioning?
telecaster: Well, over the last 10 years or so, Boomer has worked with some of Austin's finest talents. Don Walser, Christine Albert, the Cornell Hurd Band; occasionally with Chris Wall and Alvin Crow. With Don McCalister, Boomer has worked with Marianne Price, Floyd Domino, and as I mentioned before, the great Johnny Gimble. More recently Boomer has gotten to work with Johnny while playing with Texas singer/songwriter, Lost John Casner. Lost John is going to do a record this year that Boomer will be playing on and, hopefully, will be featuring Johnny Gimble. Boomer also worked duet gigs with Son Geezinslaw for a number of years in the Austin area and was called to play with Son and Sammv Alred, the Geezinslaw Brothers, when their regular guitarist was out sick for a few weeks. He played me when the Geezinsiaws opened for Ray Price in Austin, and he played me when they performed at Willie Nelson's 4th of July picnic in 1996 in Luckenbach, Texas.
Q: Ah, yes Luckenbach, Texas, with Willie and Waylon, and the boys. That must have been an incredible gig!
telecaster: Absolutely! (laughing) Waylon wasn't there that year but we saw Willie and the rest of the boys. We played between Leon Russell and Kris Kristofferson. 14,000 people and then the next night Boomer and Son played for 14 people at a club in Austin.
Q: You're kidding - really?
telecaster: I kid you not!
Q: So, a lot of country music. Do you get to play anything else? I mean, do you play any other styles of music?
telecaster: Oh yes, definitely. Boomer plays a lot of jazz and western swing… and he has a strong background in rock and roll and the blues. And out on a gig, there's really no telling what strange kind of things he might play. He goes off on tangents and chases weird ideas all the time, whether they fall into a category or not. Sometimes I think he will deliberately play something so far out of the bag just to see if anyone is paying attention. Just to see if anyone says anything. I'm really afraid that he is going to get us fired from a gig one of these days. We'll see. But yes, to answer your question, Boomer is a very versatile guitarist, very diverse influences, very eclectic listening habits also.
Q: Yes, I can imagine. Tell us about Boomer's influences. Who does he listen to? Who are his favorite guitarists?
telecaster: Well, first and foremost would be the late Eldon Shamblin. He was a longtime guitarist with Bob Wills and the Texas Playboys. Eldon wore a cowboy hat and cowboy boots and he played jazz. A lot of Boomer's playing is all about just that. Faded Love is one of Boomer's favorite tunes and Eldon's guitar part is almost as essential to that song as the melody that the fiddle plays. Eldon's guitar work is featured heavily on the Bob Wills and the Texas Playboy's For the Last Time record and on Merle Haggard's record My Tribute To The Best Damn Fiddle Player. Both of these records are in Boomer's collection, and we've spent a lot of hours woodshedding with them. Boomer got to meet Eldon briefly in 1995 at a Playboys reunion show. Sadly, Eldon died in the summer of 1998.
Some of Boomer's other influences include the king of the three fingered guitar players, the incomparable Django Reinhardt, the spiritual father of the electric guitar, Charlie Christian, Merle Haggard's guitarist for so many years, Roy Nichols, and of course, the legendary James Burton, who also played with Haggard, Elvis, Emmylou Harris, Ricky Nelson, and The Killer, Jerry Lee Lewis.
Then there's Joe Pass. Boomer saw Joe Pass play solo at a jazz club in Austin in the ear1y 1990s. He had, of course, been listening Joe's records for some years before that, and let me tell you, he's spent a lot of practice time trying to figure out what Joe Pass was doing. Again, sad to say. Joe left us sometime in the early 1990s, not long after he played Austin, I can't remember exactly when.
And of course, there's Herb Ellis and Barney Kessel. Boomer did a report on Barney Kessel in high school. Kenny Burrell, Wes Montgomery, he was about the first jazz guitarist that Boomer got turned on to back when he was playing beer joints with Charlie Beaver. And of course the hillbilly jazzman turned Nashville session ace, Mr. Sugarfoot Rag, Hank Garland. Hank played on so many great records; I Fall To Pieces by Patsy Cline, and Little Sister by Elvis Presley, just to name two. Also, T-bone Walker, the great blues guitarist with the jazz touch, who's playing was such an extension of what Charlie Christianson had done.
Another Telecaster genius was, of course, The Colonel, Steve Cropper, who recorded with Otis Redding, and still plays with Booker T and the MGs. Boomer has seen the great Tele player from the DC area, Bill Kirchen, play live in Austin many times and has always come away with new found inspiration. Stop The Truck! opened for Bill and his band, Too Much Fun, at a SXSW showcase a few years ago.
Q: How about rock & roll influences?
telecaster: Chuck Berry. More, and more, it goes back to Chuck Berry. He played some of the coolest stuff. What else can you say?
Q: I know that a lot of jazz guitarists will say they listen more to saxophone players than other guitarists. How about Boomer? Is there a saxophonist who holds sway over his guitar playing?
telecaster: Charlie Parker. Bird's playing has greatly influenced Boomer's playing. His ability to play so wild and free and yet so melodious… The way a single outside note could throw a hairpin curve into one of his tunes. So brash and confident, yet so intimate and confiding. Yes, Charlie Parker's music has made a big influence on Boomer. I should say also that Boomer digs John Coltrane so much that he named his son Cole. And it should then be said that Cole really digs Chuck Berry.
Q: Oh, that's wonderful. Well, I wish we could go on but I know you have a gig to go to. How would you like to close?
telecaster: Well I would be quite remiss if I didn't tell you that Boomer also plays a 1972 Gibson 125 that would make a great interview for your next installment of Boomer's Guitars On The Web. Boomer's 125 was featured on both the AM Band's CD and Stop The Truck's 2 Step Program CD. He plays both of us through a late 1960's Fender Delux Reverb with a JBL speaker.
Q: That reminds me does Boomer use GHS Boomers guitar strings?
telecaster: (laughs out loud) Yes, he sure does. He avoided them for a long lime because of the name thing, but a friend gave him a set about five years ago, and he liked them so much that he started using them. He's trying to get a sponsorship from the company, but it hasn't happened yet. His string gauges are 11, 15, 18, 28, 38, and 50.
Q: Well if he does get a sponsorship from GHS, we'll certainly give them a nice plug here!
telecaster: Well, we're hoping for the best with GHS, ha, ha. I guess I should conclude now. I just want to say, look for us in 2000. I know Boomer wants to travel some this year, and I'll be right there with him at every gig. Also, of course, look for the records, CDs, Stop The Trucks 2-Step Program, and the AM Band's Swang and look for the new AM Band CD out this spring in time for SXSW. If you come to Austin, he and I will probably be playing somewhere around town.
Q: Boomer Norman's Telecaster, thank you so much for talking with us and I hope you have a great year.
telecaster: Thank you. Thanks for inviting me here.